Service information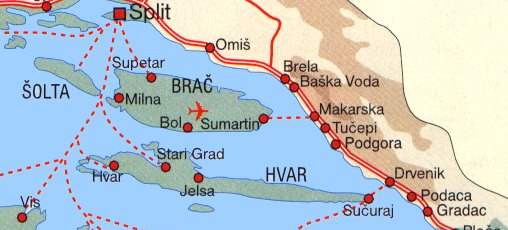 The easiest way to reach Sućuraj is by ferry line from Drvenik (Riviera of Makarska). Schedule is very frequent in summer season, and there are two ferries driving non stop. Driving from the coast to the island is 30 minutes long. Airports in Split and Dubrovnik are cca. 2 hours driving by car (or bus). From Zagreb direction, one can take train to Split, and then proceed by bus, or directly from Zagreb take bus to Dubrovnik.
In the village there is ambulance, post office, supermarket, two smaller grocery shops (with fresh meat), pizzeria, open market for fruit vegetables and fish, few restaurants and cafe bars.
Beaches
The beach in the village is shingle beach of small pebbles, and when you step in to the water it is sandy. In the afternoon hours there is plenty of shadow. Shower, cafe bar and daily cleaning make it suitable for small children as well. It is never too crowded. After the beach ends, you can enjoy yourselves on the stony shore. The stones are flat and access to sea is comfortable
Except this beach, there are many natural sandy or shingle beach bays (auto camp Mlaska, Perna), where You can go by boat, car bike or just take a walk. In Mlaska there is a restaurant, showers, toilets. The bay is not deep; it is sandy, and suitable for different games with ball in the water   (for example wale ball or badminton in 50 cm. high water with sandy bottom). The net is always there. Also the winds outside of the bay are good for surfing. Restaurant is making it attractive for spending the whole day. There is also a nudist part of the bay, completely apart from the rest of the bay.
 
Perna is natural sandy bay with old pine forest; very often we are taking our guests on a half-day excursion for swimming. Access is possible also with cars, bike or by 30 min walk.
Since Sućuraj is situated on southern ease end of the island of Hvar, it is the real pearl of different possibilities of enjoying in the nature. Next village on the island is 20 km. far Bogomolje. It means that there is cca. 20 km. of non habituated, not devastated coast on the north and on the south side of the island. Your host are very willing to show you some of those beaches. Scuba diving is also one of the possibilities; see life is interesting and rich with fish and mussels.
Climate, vegetation and activities of the local population
Island of Hvar is known as sunniest island on Adriatic, with the most of sunny hours, and very mild and pleasant climate. Summers are worm but dry, without heavy moist in the air, so that high temperature is well endured. Vegetation is Mediterranean with many pine forests. Myrtle, Strawberry-trees, Cypresses, Oleanders and Agaves in Sućuraj, on the south east end of Hvar create very picturesque landscape, where You can take long walks towards lantern, and enjoy sun and swimming on the stone seashore.   In the past, the whole island was making living from vineyards and producing of vine. After disease, which destroyed vineyards at the beginning of last century, population migrated to America, Australia or New Zealand. Than lavender became most profitable plant. Today island is covered with fields if lavender flowers. Even when driving with cars along the island You can fell very strong but pleasant smell of lavender.
Picking of lavander flowers is in July, and then the aromatic oil distillates.
Still, today, because of the very suitable landscape, sunny terraces, population is turning toward production of vine. In Sućuraj You can buy red and white bottled vine of the highest quality, from domestic producer, created by the high standards from original local sorts.
Olive tree was always nourished in these parts, and its oil is considered a cure. Your host is producing oil of extra virgin quality, by cold press, which is not destroying useful ingredients of oil. Figs, almonds, and carobs are also cultivated, and on western part of the island, rosemary aromatic oil is also produced. Island is rich with self-growth spice and medicinal herbs like salvia, oregano, different types of mints etc.
Fishing is in Sućuraj one of the basic activities. Fishing boats, big and small give a special charm to a harbor.